La Cita recommends two different types of accommodation:
CAT B: A small family run hotel in front of the Kursalle
CAT A: A luxury 4 star hotel in front of the Kursalle
We strongly suggest that you select one of these options as the accommodation offer in Spa is often early fully booked on summer weekends! Be aware that this might also mean a significant increase in prices when you book last minute or too late.
Please note for the following two hotel arrangements, there is absolutely no margin or commission. It's just the specially negotiated La Cita price.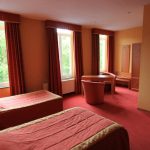 CAT B The simple family run hotel ***

All rooms are equipped with TV, free WIFI, small fridge, bathroom and hair dryer. Breakfast is not included but there is the Cita brunch!
7 double rooms 85€ – 90€ / room (queen or king size beds for 2 persons), 10 twin rooms 90€ / room (for 2 persons) and 10 single rooms 75€ per person. Minimum stay 2 nights.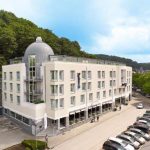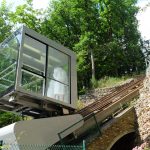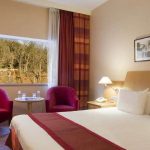 CAT A The Radisson Blu Palace Hotel, ****, a very beautiful, full comfort hotel, just in front of the venue and with a private funicular to the thermal baths on the hill (special rate for the thermal bath for Amigos applies). There is also a restaurant and café inside the hotel and an onsite wellness offer with free access. On the left side of the hotel there is the Park des Sept Heures. The rooms are fully equipped with TV, free WIFI and bathrobes. There is also an indoor parking. The breakfast is not included and we will have brunch all together at the venue! This is our recommendation if you are looking for the full spa experience 😉
Special La Cita arrangement: double or twin rooms 130€ / room / night.
If you select the two hotel options and don't have a partner for the double room, we will try to match you according to your preferences, use the "I wish to share accommodation" field during the registration. If you want a single room please select "Single Room".