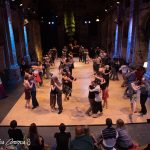 Dear Amigos,
We invite you to the 14th edition of the private and role balanced tango meeting La Cita de los Amigos which will take place in Brussels on the 13th to the 15th December 2019.
La Cita de Los Amigos Winter Edition!
As there are only 300 spots available, our helper team included, this time we introduce a slightly modified scheme of registrations with a closing date on the 17th July 2019. Better be fast with your registrations as places are sparse!
Private registrations start on the 3rd – ending 17th July 2019 via this website.
There will be a wooden dancing floor and seating inside the chapel. Brunches and dinners with a selection of finest wines and Belgian beer. One particularity of the event is the home cooking from fresh ingredients, always with alternative options for people with food allergies.
As usual we will make an all-inclusive participation package which means that there will be an open bar and you won't need to bring any extra cash!
And, to have you closer to the event, we will open again the on-site sleeping places in the modern lofts and the big dormitory. Let's go for this ultimate sound and dancing experience amigos!
la Cita de los Amigos 10 from Roberto SZ on Vimeo.
Yours,
BB&JI