During our last registration process, starting on 8.8.2017, we asked again every candidate who applied for a place at  La Cita de los Amigos Winter Edition (15. – 17.12.2017) to answer the following question: "Which is your favorite tango recording?" Song title and orchestra.
The registrations started in August and we received around 500 answers of which we only took around 350 answers into consideration which correspond to the participants and some cancellations-changes, some were blank votes and are marked as NA (no answer) in the results. The participants are spread equally over the 2 genders and are coming from 31 countries of residence, mainly from Central Europe (Belgium, Germany, France, Ukraine, United Kingdom, Portugal, Italy, Slovenia, Luxembourg, Netherlands, Spain, Latvia, Slovenia, Switzerland, Colombia, Finland, Sweden, Denmark, Macedonia, Russia, Serbia, Poland, Slovakia, Croatia, Norway, Lithuania, USA, Ireland, Romania, Austria, Argentina) and have a high level of dance skills.
Please see here for the resulting table with the distribution by favorite orchestra: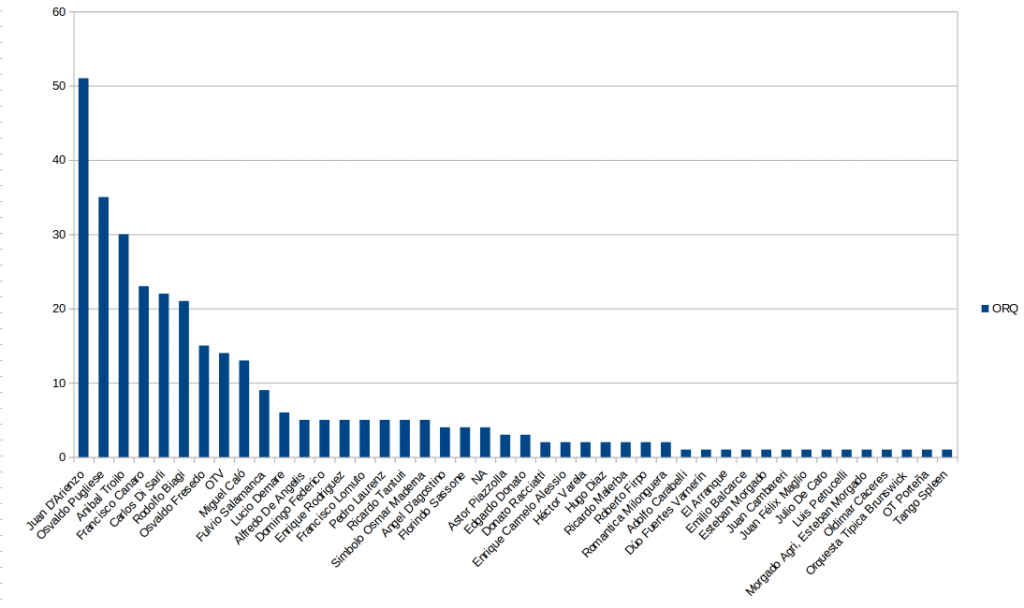 Juan D'Arienzo moves up to 52 votes (42 votes 2016) again on the first place uniting nearly 1/7th of all votes, followed directly by Osvaldo Pugliese 35 (31). On the third place this year: Aníbal Troilo 30 (26).  Followed by Francisco Canaro 23 (41), Carlos Di Sarli 22 (25), Rodolfo Biagi 21 (26), Osvaldo Fresedo 15 (13), OTV 14 (26), Miguel Caló 13 (17), Fulvio Salamanca 9 (6) in this descending order.
Again, the way the question was formulated induces that we didn't necessarily want to know the most loved orchestra but the one which performed the favorite tango recording. The top ten has slightly changed as compared to last year and corresponds more to the idea of the Big Four, Francisco Canaro lost seriously votes as compared to last year. The NA threshold (4) is quite low compared to the next tables (favorite singer and song). This seems to be quite natural as everybody can at least with ease name an orchestra.
Let's see now the favorite song titles for which the participants voted: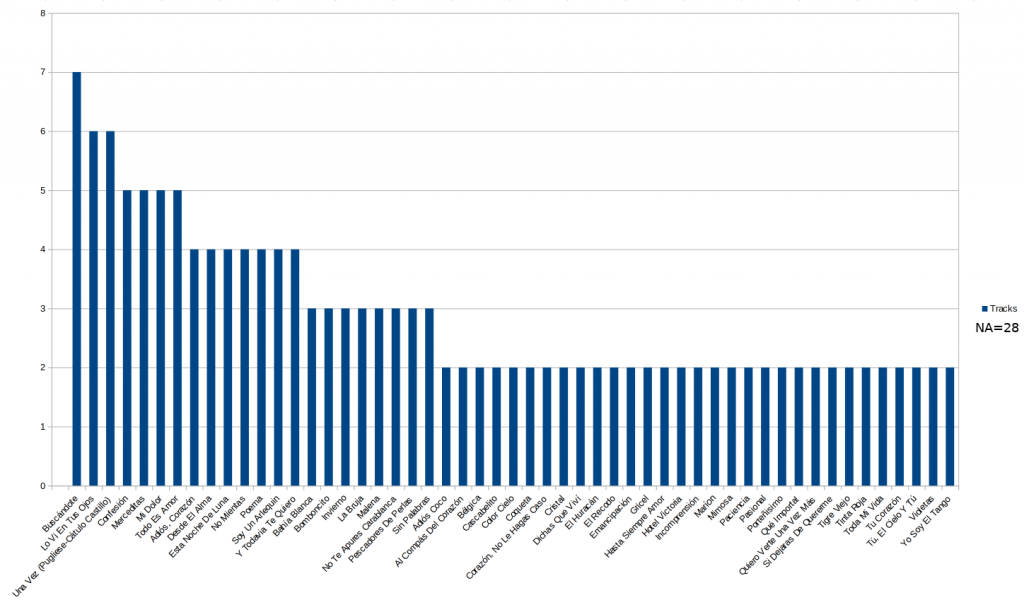 First of all there is a relatively high figure of blank votes (28 NA, last year 43 NA) because it is always difficult to remember a title compared to the name of an orchestra. See here for the favorite tangos of the moment:
Buscandote (7 votes)
Lo Vie En Tus Ojos, Una Vez (Pugliese-Castillo version) both (each 6 votes)
Confesión, Merceditas, Mi Dolor, Todo Es Amor (each 5 votes)
Adiós Corazón, Desde El Alma, Esta Noche De Luna, No Mientas, Poema, Soy Un Arlequin and Y Todavia Te Quiero (each 4 votes)
Even if there are 14 highly identifiable hits, the figure shows that the taste of the participants is very much spread over a large variety of different songs which got nearly all the same score in the scope between 2-3 votes.
Let's check out the singer now. This question wasn't asked explicitly but it can be deduced from the collected data: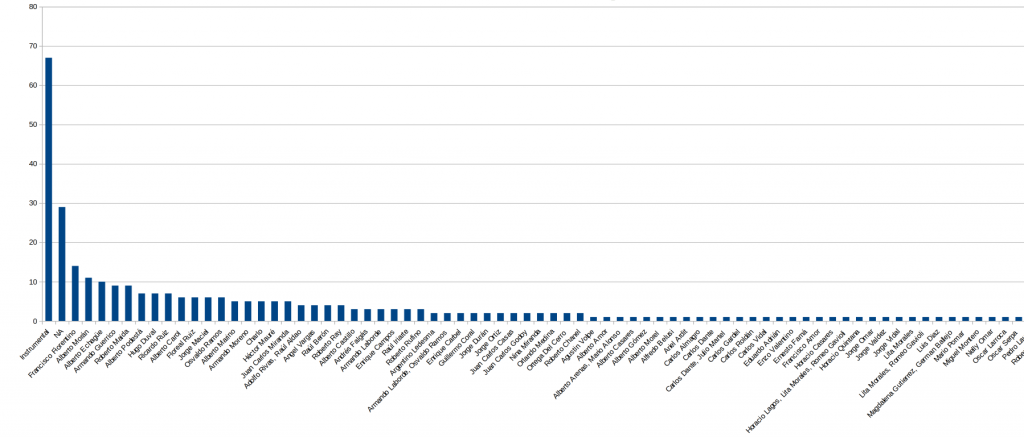 The favorite singer is again no singer, or rather an instrumental tango (67). On the first singer place we find Francisco Fiorentino 14 (11), the second place goes to Alberto Morán 11 (6) and on the third place is Alberto Echagüe 10 (unchanged). This is the new top-6:
| | |
| --- | --- |
| Francisco Fiorentino | 14 |
| Alberto Morán | 11 |
| Alberto Echagüe | 10 |
| Armando Guerrico | 9 |
| Roberto Maida | 9 |
| Alberto Podestá | 7 |
| Hugo Duval | 7 |
| Ricardo Ruiz | 7 |
| Alberto Carol | 6 |
| Floreal Ruiz | 6 |
| Jorge Maciel | 6 |
| Osvaldo Ramos | 6 |
Favorite recording year, deduced from the collected data: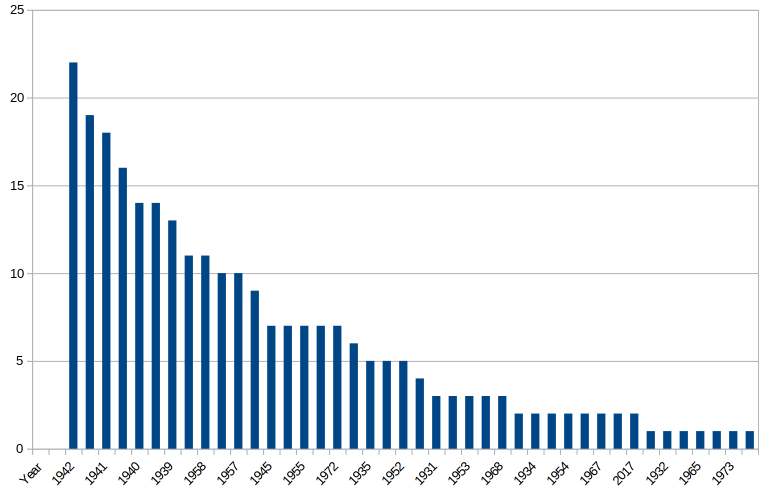 To be continued soon …
© 2017 La Cita de los Amigos (contact: lacita@all2all.org)